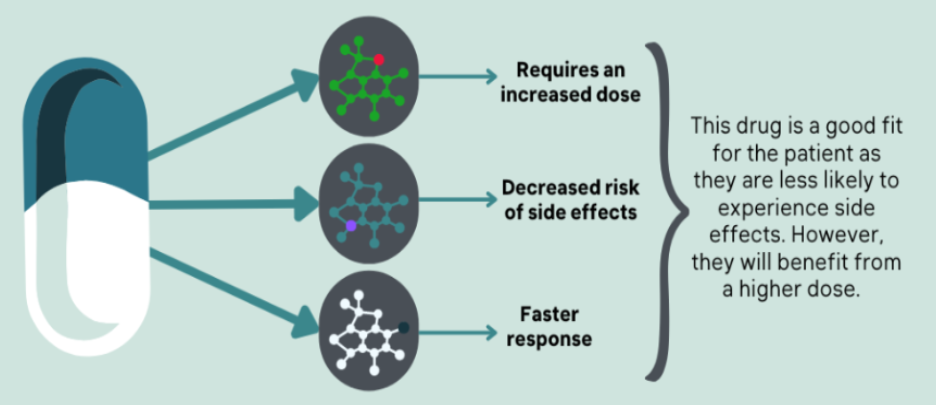 Approaches for Reporting Pharmacogenetic tests
Written by: Jamie Fernandez, B.Sc. Hons. in Genetics, Content Specialist
Pharmacogenetic testing is still a relatively new field, so much progress still needs to be made for this type of testing. As you may have read, in pharmacogenomic testing, DNA is genotyped and matched to known gene-drug interactions; however, there is no standardized approach for reporting this testing. This leads to many differences in how these reports are compiled and presented. Therefore BioCertica's approach to presenting pharmacogenetic results is different from other companies that offer this testing in South Africa. For the sake of transparency, we would like to explain the difference. 
Our competitors
We have noticed that our competitors tend to follow a similar approach. 
For their pharmacogenomic tests, our competitor starts with the gene-drug interactions. They look at a few gene-drug interactions with a specific focus on the CYP genes, a group of enzymes that metabolize many drugs. These gene-drug interactions are associated with specific phenotypes (the characteristic) such as poor metabolizer, intermediate metabolizer, normal metabolizer, and rapid metabolizer. From there, they apply the phenotype to each drug that is known to be metabolized by those enzymes. 
At BioCertica, we effectively report the gene-drug interactions in the opposite direction because instead of starting with the gene-drug interaction, we start with the drug. For each drug in our databases, we look for the known gene-drug interactions associated with the drug of interest. Although CYP enzymes metabolize many drugs, these are not the only gene-drug interactions that are involved in metabolizing drugs, and these are available on the PharmacoPGK databases. Therefore we can provide information for multiple gene-drug interactions that are specifically related to that drug. The reason why we chose this approach is that we can provide more focused information that is specific to each drug. Typically someone who invests in a pharmacogenomic test is already taking a specific medication and would like to know if this medication is best suited for them or if they should try an alternative medication. Therefore we feel that our approach to reporting pharmacogenomic results is more intuitive from a user's perspective. 
Please read our
other articles
here for more information on BioCertica's pharmacogenomic tests.