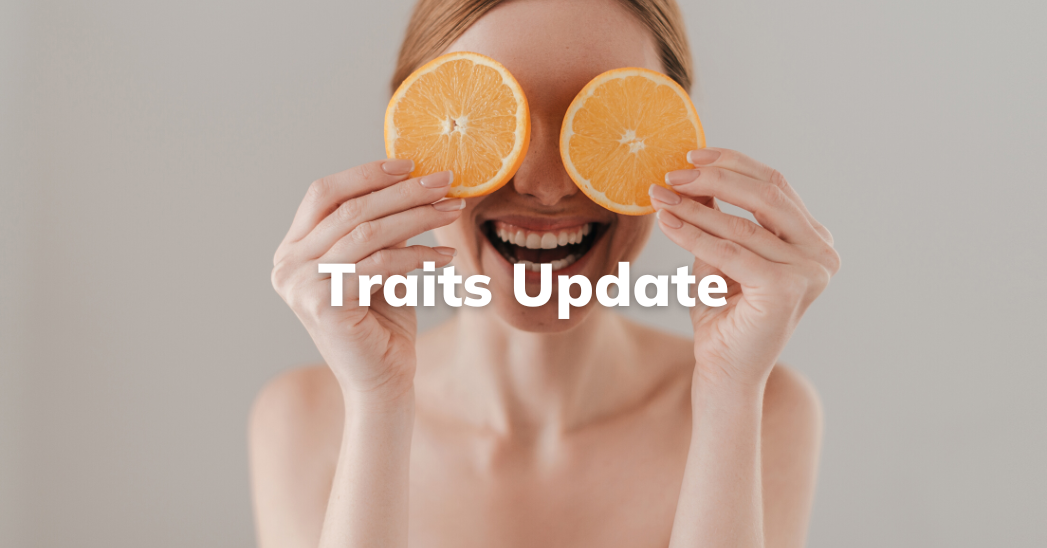 BioCertica Traits Update: February 2023
Our goal at BioCertica is to help you take control of your health by empowering you to tailor your lifestyle to your genetic makeup. We strive to continuously improve our product and keep up to date with the latest research by giving you the most valuable information and accurate results possible.
That's why we're excited to announce the release of 24 additional traits and updates to our Fitness, Nutrition and Well-being, Weight Management, and Skin Care DNA kits. 
These added traits provide more valuable and deeper insight into your exercise performance potential, exercise needs, dietary requirements, focus areas for weight management, and whether you are genetically predisposed to common skin conditions. 
Furthermore, except for two (see specific details in the list below), all the traits added are established polygenic risk score traits. In other words, they are based on the GWAS Catalog associations, which have between thousands to hundreds of thousands of genetic variants that contribute to each result.
We did an update and improvement of several current traits; more information on that you will find below. With all these upgrades to our DNA kits, we are confident that we provide revolutionary genetic insight into your diet, exercise, and general lifestyle needs. 
The following traits are added:
Fitness
Nutrition
Ability to manage blood triglycerides (this trait is duplicated from the Cardiovascular Kit)

Methylation

(two specific gene variants significantly involved in folate metabolism are tested; therefore, this trait is not from the polygenic risk scores database)
Weight Management
Skin Care
Updates to existing traits:
Athletic endurance

(removed)




We have added two polygenic risk score traits that replace this single-SNP trait for much more accurate and informative results regarding aerobic capacity.

Body weight loss in chronic disease

(removed)




With the upgrade of the Weight Management DNA Kit and the Obesity trait, for which we now provide a polygenic risk score, this trait was redundant. The newly-added traits provide a better understanding of how to manage your weight.

Rheumatoid arthritis joint injury risk

(moved)




The meaning of this trait changed with its conversion to polygenic risk scoring. We want to provide true and practically applicable DNA Kits and have decided to move this trait from the Fitness DNA Kit to the Traits DNA Kit.

T-peak to T-end interval

(moved)




With our transition to polygenic risk scoring, this trait could not keep its original meaning. It is now more suited and valuable in the Cardiovascular DNA Kit than in the Fitness DNA Kit.

Risk for hypertension (high blood pressure)

(moved)




As with the preceding two traits, the meaning of this trait changed slightly when converted to a polygenic risk-scoring methodology. Thus it is more suited to the Cardiovascular DNA Kit rather than the Fitness DNA Kit.
The removal and moving of these few traits finalize our efforts to ensure full transparency and accuracy of our results following the upgrade of all our initial traits to the polygenic risk scoring methodology. 
Interested in trying one of these BioCertica DNA kits? Click here and add your preferred kit to your cart for only R1699. 
If you already own any of the BioCertica DNA kits, you can instantly unlock any additional kit for only R599* in-app. Click here to see which kits you can unlock in-app. *Terms and conditions apply. 
Note: For all current users that already own any of the applicable kits - your results will be updated automatically to include all the improvements at no extra cost!