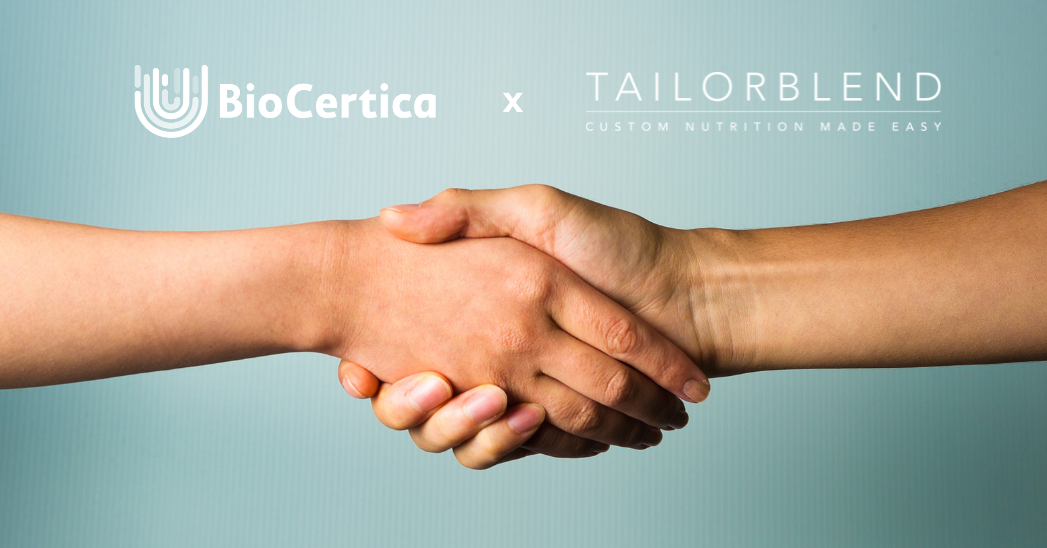 BIOCERTICA PARTNERS WITH TAILORBLEND
12 January 2023 – "With BioCertica, complete wellness is just a click away." Gert van Wyk - Founder at BioCertica. 
The average person needs to take at least five additional supplements to support a healthy and optimal body function.
Each person is unique, and what supplements you should take differs from person to person. Recent advancements in nutrigenomics have proven that our bodies metabolize nutrients differently due to our genetic makeup, meaning what is beneficial to others may not be the best choice for you.
This leaves most people in the aisle of their favorite wellness store with a dilemma; "...out of all of these supplements, what works for me?''
Taking a DNA test is a silver bullet solution, right? 
You will be surprised to know that most people end up even more confused after taking a standard DNA test. Most people tend to seek qualified practitioners to make sense of the "DNA Greek" in their reports and turn the information into actionable insights for daily use. 
People often go home with a great meal plan but are left to do most of the heavy lifting themselves when deciding what to eat or what supplements to take. 
This leaves most people right where they started, standing in the aisle with the same question - "What should I buy...?"
BioCertica, an internationally recognised local startup unlocking the world of genetics, announced yet another revolutionary service in the world's first - a  "Wellness Advisor in a Box" solution.
This solution takes the guesswork out of buying decisions when customers need to decide what supplements to take, food to eat, exercises to do, or medicine to take - by providing a mobile solution at the point of purchase that matches the best product with the individual genetic needs. 
BioCertica users can access this new value-added service with BioCertca's first partner integration - TAILORBLEND - a well-known personalised nutrition company. 
"The BioCertica - TAILORBLEND integration provides individuals with their own premium personalised supplement, formulated based on their BioCertica DNA test results. It typically includes a wide variety of active ingredients, including all the essential vitamins, amino-acid chelated minerals, and premium functional ingredients. This all-in-one blend is delivered to your door, prepared with cold water, and enjoyed as a fruity beverage." - Bernard Nortje - Founder @ TAILORBLEND.
With BioCertica, you can discover what your body needs, with a click of a button, taking the guesswork out of choosing supplements and opting for a supplement tailored to your DNA. 
BioCertica DNA kits offer various products that help you understand your nutritional needs and what medications and supplements are tailored to you. 
Individuals with 3rd party DNA test results can also access BioCertica's "Wellness Advisor in a Box" solution. Upload an existing DNA test done through 23andMe, ancestry.com, or a similar service provider directly to the BioCertica platform - ensuring that the next time you walk down the supplements aisle, you will never be more than one click away from an easy healthy decision. 
"We are excited to kick off our "Wellness Advisor in a Box'' service with TAILORBLEND, and we are proud to be associated with a company of this calibre. Moreover, TAILORBLEND is one of many new and exciting Hyper-Personalization partnerships we have lined up for 2023, and we are excited about our international expansion plans." Arno Smit - Co-Founder at BioCertica.
"BioCertica reveals what individuals need to improve their health, TAILORBLEND makes it all easy and actionable. Combining accurate information with premium nutrients, we are excited to improve the well-being of our clients together." Alwyn Viljoen, Co-Founder, and CEO at TAILORBLEND. 
Unlock the key to personalised wellness with BioCertica's DNA testing kit and TAILORBLEND personal blend. Discover your uique nutritional needs and optimize your health with just one scoop. Click here to learn more. 
If you are interested in discussing health and wellness personalization opportunities, contact BioCertica at marketing@biocertica.com.